Barriers to ELL Graduation
Back to Blog
Barriers to ELL Graduation
07/17/2021
Barriers to ELL Graduation
By Shawnna Sweet, Professional Development Specialist
This spring, community stakeholders from Rochester and other places across New York State engaged in a community forum to discuss the
barriers to ELL graduation. The event was organized by the Mid-West Regional Bilingual Education Resource Network (RBERN) and The Children's
Agenda, a non-profit organization that advocates for policies and solutions for children's health, education, and success. This virtual forum was
conducted using Zoom's simultaneous interpretation, so participants were able to choose to engage in English or Spanish. Participants' roles ranged from educators, school and district administrators, former ELL students, parents, and community members. The entire community forum event consisted of expert presentations, a panel discussion, and small group discussions.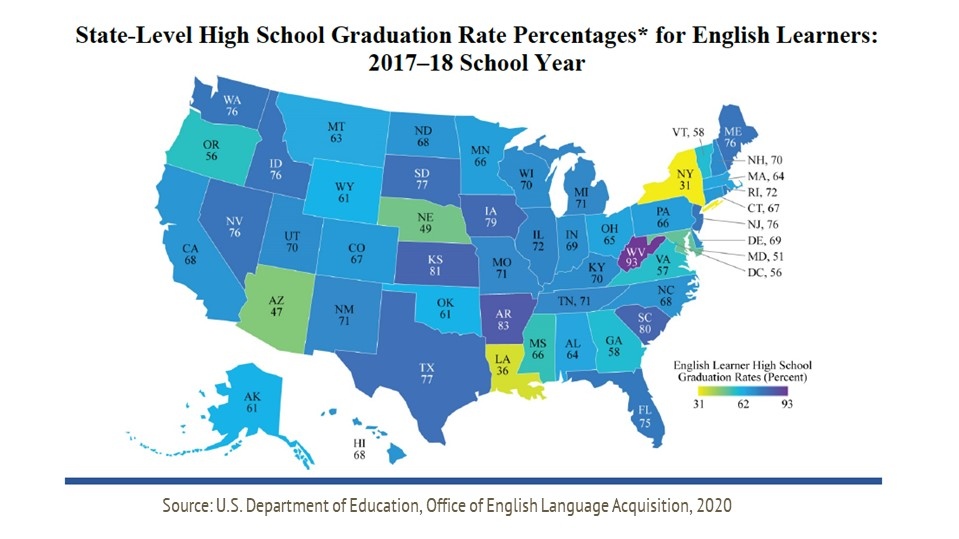 ---
The opening remarks were delivered by Dr. Kate Menken, professor, author, and researcher from Queens College and the Research Institute for the Study of Language in Urban Society at CUNY Graduate Center. Her research interests include language education policies, bilingual education, translanguaging, and public schooling for emergent bilinguals. In her recorded presentation, Dr. Menken shared some facts and figures on ELL graduation data, including data that indicates New York State as having the lowest graduation rates for ELLs in the country in 2020. According to Menken, the main cause of this dismal statistic is that the New York State Regents Exams are frequently a barrier for ELLs to meet graduation requirements. You can watch Kate Menken's opening remarks here: https://youtu.be/1ngraFlC5V8

The following presentation was conducted by Eamonn Scanlon, Education Policy Director for The Children's Agenda. His presentation focused on the change in graduation rates for ELLs during the COVID-19 pandemic. The canceling of Regents exams in 2020 may have had a significant positive impact on graduation rates for ELLs, as the data indicates, which can lead us to believe that current graduation requirements may be acting as barriers for many ELL students. Additionally, Eamonn shared information about the unique opportunity provided by the Federal Education Stimulus and Foundation Aid, advocating for districts to have a plan to meet the needs of their ELL population.

Following this presentation, Shawnna Sweet from Mid-West RBERN shared some basic information about graduation requirements and statistics for ELLs. In New York State, ELLs are required to meet the same graduation requirements as non-ELL students, which includes 22 credits for coursework and attaining a passing score for five exams. This proved to be a tall order for many ELLs. Only 46% of the 2016 cohort were able to meet graduation requirements, compared to 62.2% of students with disabilities and 89.4% of general education students. Conversely, the dropout rate for ELLs shows a similar pattern, as 25.5% of ELLs in the 2016 cohort dropped out of school, while 8.2% of students with disabilities and 4.4% of general education students were dropouts.

Furthermore, there are also issues with equity and access, as data shows Latino, Black, and American Indian students in New York public schools are underrepresented in advanced coursework, classes that prepare students for advanced coursework, and are far less likely to attend schools that offered a full range of these courses. ELLs are also underrepresented in Career and Technical Education (CTE) programs, and ELL students are not provided with testing accommodations on AP or IB assessments unless they have a documented disability. This data indicates that lack of accommodations and opportunities result in multiple disproportionalities for ELLs in high school.

After this came the panel discussion, which allowed the audience to hear from distinguished speakers sharing first-hand experiences. The panel was moderated by Dr. Alicia Van Borssum and included NYS Regent Ruth B. Turner, Eleonor B. Payton, Bilingual School Counselor, and three recent high school graduates: Homer Acwil, Mirian Valdor, and Yaide Valdez. During this discussion, all speakers agreed that the low number of ELLs graduating is shocking. Regent Turner stated that "you can't get comfortable with that data." According to Eleonor Payton, students are also challenged by the vast difference between schools in their home countries and schools in the U.S. and the lack of resources and support for SIFE students.
Along with passing exams, some of the biggest barriers the former ELL students discussed are the additional responsibilities that ELL students often have with helping out families with housework, finances, and language support. Regent Turner, a former ELL herself, remembered being in school and not having a great deal of support with language. One of the things that made the difference in helping ELL students graduate was supportive adults, such as teachers and community members, who took the time to mentor them.

Finally, the last part of the event allowed all participants to provide insights into the barriers to ELL graduation in a small group format. A variety of community stakeholders facilitated the breakout groups, and participants were placed in rooms randomly, except for those who preferred to join the Spanish group. Some common themes also emerged in these discussions. Many of the groups discussed the various demands that are often placed on older ELL students, such as caring for siblings, translating for parents in a variety of settings, and working jobs outside of school hours to help financially support their families. Participants also commented on the struggles of ELL students to pass exams and classes they need to attain credit. Some of the potential solutions suggested that schools work to better meet the needs of individual students through mentoring and planning for post-high school goals. It would also be helpful if schools were better prepared to support ELLs in high school longer than four years and ensure that ELLs have equal access to programs that will impact their future, such as CTE programs.

This event was the first of its kind, with hopes for more opportunities to continue the discussion in the future. Before COVID, there was an effort to reexamine graduation requirements across the state; however, that initiative has been placed on hold for the time being. You can follow up with these initiatives on the NYSED webpage: http://www.nysed.gov/grad-measures

In summary, all stakeholders must understand that our ELLs often need more support than what is typically provided to meet graduation requirements. Improving graduation outcomes for ELLs often leads to improving the quality of life for a student and their family. As educators, community members, and advocates, we must continue to keep this conversation going so we can offer our ELLs equity and access to a promising future.

To view the recording of the "Barriers to ELL Graduation Forum" visit: https://ensemble.monroe2boces.org/hapi/v1/contents/permalinks/f3P8FzYi/view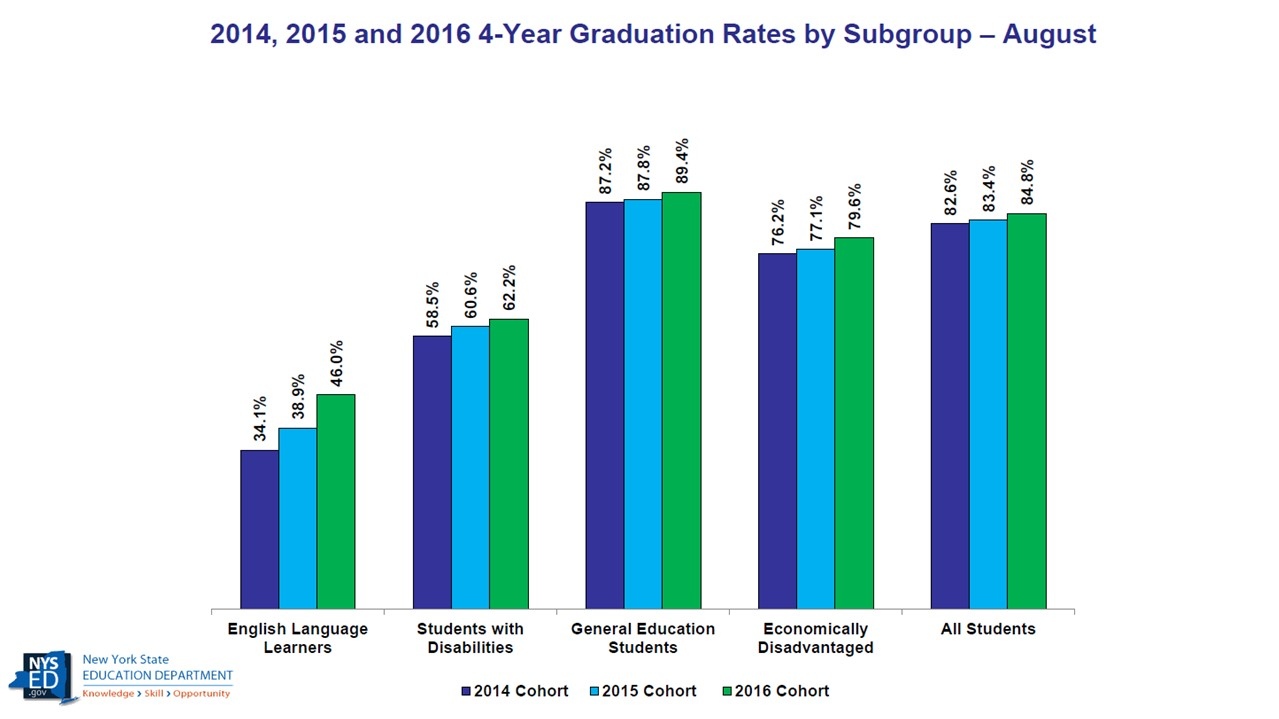 Shawnna Sweet is a first-generation American and a native Rochesterian, with a passion for improving the lives of ELLs, their families, and the community through education. She spent the majority of her teaching career as an ESOL teacher in the Greece Central School District, where she worked on teams to develop and implement various initiatives, including a Newcomer Program, ESOL Summer Enrichment Program, and Family Literacy Program. Additionally, Shawnna is an instructor at Nazareth College, teaching a variety of courses to graduate students in the TESOL and TESOL for International Educators programs. She holds a BA in English and Secondary Education from St. John Fisher College, an MS Ed in TESOL from Nazareth College, and is currently enrolled in the Educational Leadership Program at the University of Rochester and serves as an executive board member for NYS TESOL. Shawnna's areas of expertise include the NYS Seal of Biliteracy, graduation requirements, and teaching initiatives.