Online Conference FAQs
Save the Date!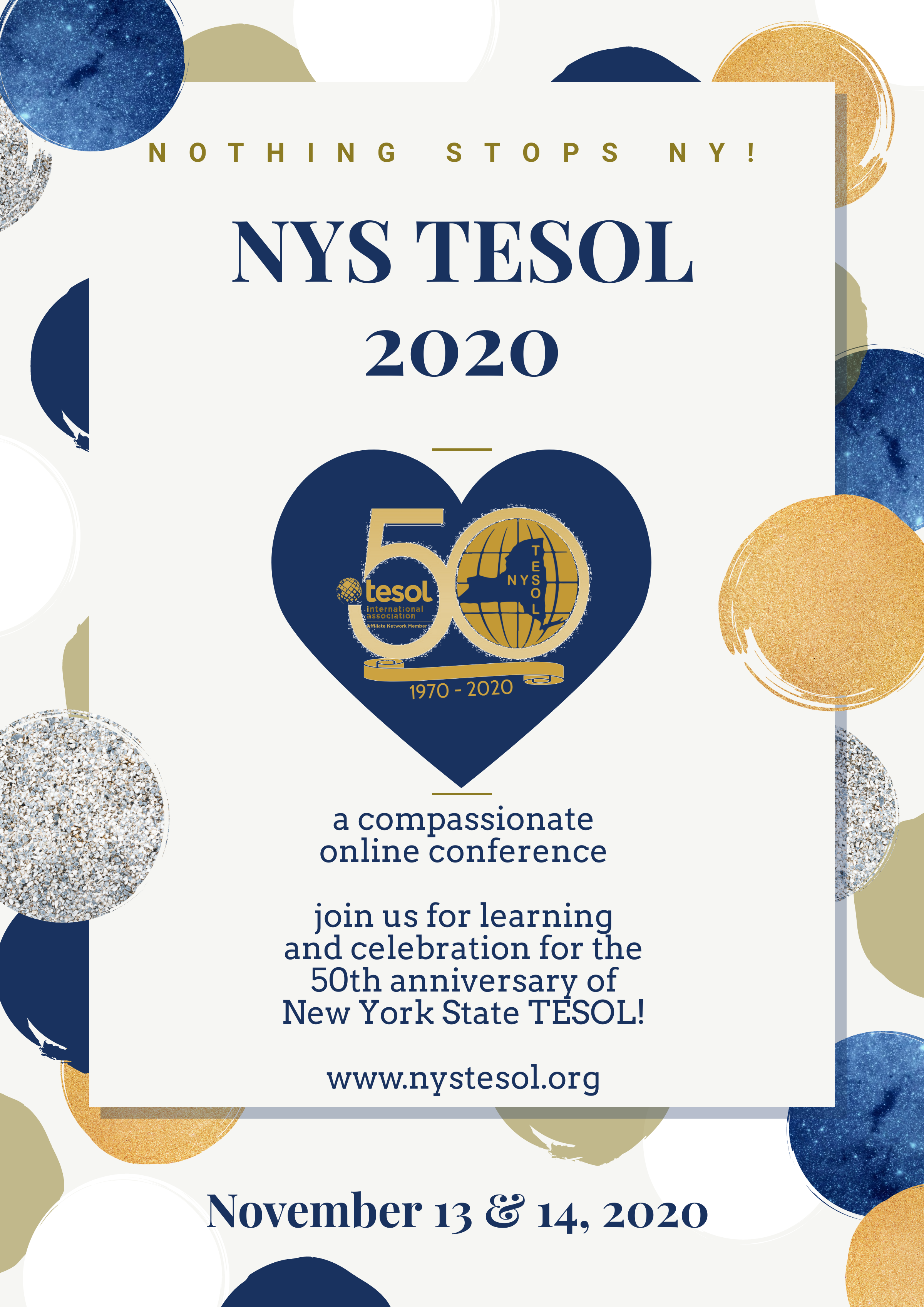 Are we going to have a conference in 2020?
Yes! We are going to have a virtual conference on November 13 and 14, 2020. It will be an amazing opportunity to celebrate our 50th anniversary with all of our wonderful NYS TESOL community. It will be even more inclusive of all our members across New York State and around the world!
What will a NYS TESOL online conference feel like?
We want our 50th anniversary to capture the true values and assets of our NYS TESOL community. For this reason, we are intentionally designing a compassionate virtual conference - a place to connect, learn and above all share how much we care about our multilingual learners, their families, and each other. More than ever, we need to practice compassionate teaching by being supportive advocates for our multilingual students. We plan to provide as many awards and grants to students and educators as possible!
What will a NYS TESOL virtual conference look like?
The conference will hold three types of concurrent sessions: 45-minute interactive workshops, 25-minute practice or research-focused presentations, and quick teaching tips, where 3 presenters will share strategies for 15 minutes each. We will also have fun coffee breaks and lunches for participants to schmooze, connect, and reflect with each other. We will feature incredible keynote speakers. The two days will be filled with rich opportunities to learn, share, and interact with educators of multilingual learners at all levels.
Have proposal submissions closed?
Yes. However, we are still accepting proposals for quick teaching tips until June 1st, 2020. Click here to submit a proposal for a quick teaching tip.
How can I apply for an award?
We are now accepting applications for educator and student awards. The deadline is June 1st, 2020 and announcements will be on July 1st, 2020. Click here to apply!
How can I register for the conference?Registration information for the November 13 and 14 virtual NYS TESOL conference will appear here on our website as soon as final details are completed.
Can I receive CTLE credits for participating in the virtual conference?
Yes. Members can receive up to 12 CTLE credits. Join now for $20.20 and enjoy the many benefits of being a part of a fantastic community of advocates for multilingual learners!
What else should I know?
There will be opportunities for publication in the NYS TESOL Journal and in our newsletter Mosaic. Stay tuned and visit us on Twitter, Instagram, and Facebook to find out more about awards, keynote speakers, and more!