NYS TESOL Publications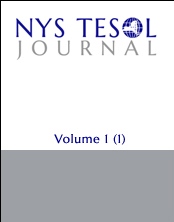 NYS TESOL Journal is the official journal of the New York State Teachers of English to Speakers of Other Languages (NYS TESOL). It is a refereed academic journal published online only, biannually each spring and fall. Articles in the NYS TESOL Journal focus on theory, research, pedagogy, and educational policy related to the teaching of English to speakers of other languages, including U.S.-born emergent bilinguals, "generation 1.5" students, (im)migrants, and international students. Articles may focus on any educational level, from pre-kindergarten to university, as well as on adult school and workplace literacy settings.
The inaugural issue of the NYS TESOL Journal was launched on January 1, 2014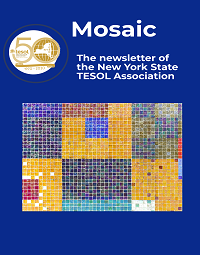 Mosaic is an online newsletter that focuses on themes of interest to ESOL professionals published 3 times per year.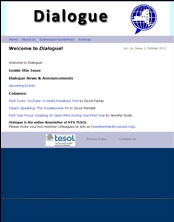 Dialogue was the online newsletter for members of NYS TESOL and was published four times a year from 2008-2013. Each issue provided members with useful resources and materials, information about current events and updates, and a forum to ask questions and address problems related to the TESOL field.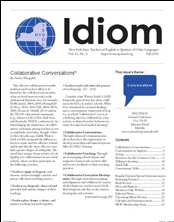 Idiom is the quarterly, professional publication of NYS TESOL that focuses on a theme of interest to ESOL professionals. Articles cover the job market, technology, assessment, and teaching ESOL in the content areas. Articles also include a broad spectrum of ESOL instruction, including elementary,secondary, and higher education, intensive English programs, adult education, and teacher training. Besides theme-based articles, Idiom features the following regular columns: Book Reviews, Tech Tools, Culture Notes and Promising Practices.